What is Couples Therapy?
Couples therapy, also commonly referred to as marriage counseling or relationship therapy, is the process of seeking emotional guidance and counseling to improve communicative issues within a relationship. Therapists create individual programs for each couple depending on issues and the severity of relationship complications. A counselor may encourage patients to attend as few as 1-3 sessions or as many at 12-24 sessions, depending on therapeutic methods.
The therapist acts as a mediator to help question and voice apparent issues between partners.  Therapists and psychologists help to create resolutions and encourage open communication not only to create solutions for current dilemmas, but also to prevent further issues from occurring.
What Problems do Couples have?
Individual issues may highly impact a couples' relationship. Individual behavioral and emotional issues may include, but are not limited to:
Depression
Anxiety
Stress
Feelings of Isolation
Low-Self Esteem
Lack of Motivation
Couples and married spouses may have communication issues that are caused by external factors that may include, but are not limited to:
Children
In–Laws
Extended Family
Traveling
Careers
Work Schedules
Finances
Domestic Stereotypes
Disconnection
Experiencing Boredom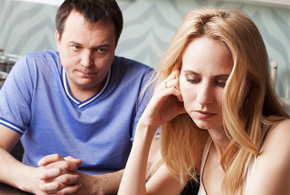 Open communication and solution-focused therapy sessions acknowledge both sides of a disagreement among partners, while welcoming a compromising solution. A therapist or psychologist mediates and help couples work out any problems focusing on commitment to one another and helpful resolutions.
How is a Couples Therapist different than a Sex Therapist?
The psychology triangular theory of love involves intimacy (attachment), passion (sexual attraction), and commitment (decision to stay with a partner). Different types of love and different stages within a relationship focus on specific sides of the triangle. A therapist acknowledges that a couple is committed to one another; sexual relations may not be the focus of the sessions, but rather emotional intimacy. A sex therapist, in contrary, focuses on issues involving passion and sexual tension, perhaps boredom or lack of sexual stimulus. A couples' therapist may address issues of intimacy and passion.